Lutheran Women's Missionary league (LWML)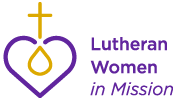 The Lutheran Women's Missionary League (LWML) is the official women's auxiliary of The Lutheran Church—Missouri Synod. For 75 years, the LWML has focused on affirming each woman's relationship with Christ, encouraging and equipping women to live out their Christian lives in active mission ministries and to support global missions.

The mission of the Lutheran Women's Missionary League is to assist each woman of The Lutheran Church—Missouri Synod in affirming her relationship with the Triune God so that she is enabled to use her gifts in ministry to the people of the world.

The LWML is the leading group for LCMS women where each woman is welcomed and encouraged to use her unique God-given gifts as she supports global missions and serves the Lord with gladness.

Nurturing Faith in Christ. 
By God's grace we offer each woman opportunities to be in the Word and to use her unique gifts in God's service.
Making Our Faith Meaningful. 
We equip each woman to make a significant difference in the lives of all people.
Sharing Encouragement. 
We value each other in Christ and we accept and encourage each woman to grow in her relationship with others.
Contact the church for more information or go to :  http://www.lwml.org/home

                                   President: Debbie Jones & Celeste Black                                   
                   Vice President: Phyllis Burt                  
            Secretary: Sheri Langsdorf           
                Treasurer: Sharyn Hill                  
Please contact any of the above for additional information about LWML and how you can become involved in women's ministry at St. John.
 All ladies are invited to participate in all LWML meetings and functions.

 LWML Care Van
Door Collection running through October. See flyer below
Deaconess Sundays
The last Sunday of every month we will have a door collection during both services for our adopted deaconess, Melissa Pflug, who is attending Concordia Theological Seminary in Fort Wayne, Indiana. There is more about her in our blog.